I've spent a good portion of my life balking at women with 70′s fluffed-out hair styles, and women who just can't seem to leave the 80′s feathered top, straight bottom look behind them.  What about those dudes still sporting mullets and chest hair?  I'm not bad mouthing chest hair.  I LOVE me some chest hair.  I just mean those guys who walk around proudly flaunting it out of their 3-top-buttons-undone shirts.  Please tell me I'm not the only person on the face of the planet who wants to run to these people, wrap them in bed sheets, and kidnap them to the nearest salon.  Can I get an "AMEN!"?
Now that we are well into the new millennium (can we even call it that at this point in time?), we're reaching the point where people could get stuck in the 90s.  Luckily the fashion wasn't wholly horrendous or obvious.  Although I do remember a time in my life where I thought sporting a flannel shirt with torn jeans was cool.  Pearl Jam, anyone?  Vans?
I don't see many pot-bellied 20- and 30-somethings wearing catholic girl skirts with an oxford shirt tied above the belly button a la Britney Spears.  I rarely see flannel anymore but that could be an effect of living on the East coast?
Maybe fashion wasn't the 90s strong suit.  But the music was EPIC.  80s music is so much fun to dance to and of course it's kitschy and upbeat.  Big Hair Bands were freaking…RADICAL, DUDE!  But the 90s was full of soul and heart.  For the first time since the advent of the electric guitar, people were pouring their hearts out authentically and singing from their hearts with all of their souls.  Rap was changing and became beautiful poetry amidst sick beats.  And then there was everything else.  I could write an entire dissertation on how music makes me feel and include hundreds upon hundreds of songs that evoke certain emotions or stoke memories, but I'll leave that for other times.
All of this to say:  I think I'm stuck in the early 2000s.  I'm certain that once this post goes live, I'll receive lots of points, stares, and laughs from my peers but you can all suck it.  I just don't get from music what I got from it over a decade ago.  My life has changed, my perspective has changed, there isn't much EXCITING going on in the hormone department to cause my emotions to seem more enhanced than they really are in order to emotionally attach myself to songs these days.  I still appreciate a good beat.  I love some good Country tunes.  I definitely still appreciate music but NOTHING does "IT" for me like some Dave Matthews Band.
Whether or not you like Dave is, like, whether or not we're compatible or not.  You say no?  We can't be friends.  Simple as that.  You've gotta like Dave because I still talk about him.  I still go see him in concert (over 10 and counting).  I am one of the nerds who buys his CDs the minute they hit the interwebz.  Dave is the standard by which all other musicians are measured in my little world and few people come close.  They are:  Jack Johnson, John Mayer, Nickel Creek, and…I can't tell the last one.  It would totally give me away.  If you want to know, ask me privately.  I might tell.
I might dress like I'm living in 2012, but in reality, I'm totally stuck in the 90s (maybe more early 2000s) and incapable of coming out.  I've tried.  Nothing on Spotify or the radio waves sends a tingle down my spine, or motivate me quite like Dave does.  In a bad mood?  Dave.  Down and depressed?  Dave.  Happiest day of my life?  Dave.  Manic?  Dave.  Stressed out to the core?  Dave.  House a wreck and need something to motivate?  Dave.
It really is sick how much I love Dave.  SICK.  The lyrics are relatable and relevant, the beats infectious, and the sheer musical genius is amazing.
I'm ready for a new artist to come sweep me off my feet, but in the meantime, you can find me mopping my floor to "Tripping Billies" with a scrunchie in my ponytail.
Although maybe it all just boils down to I need to see someone else in concert?  I don't know.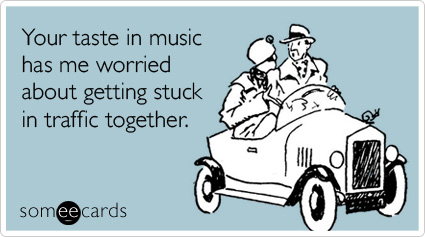 Don't laugh too hard at me now that you know I'm one of the pathetic stuck-in-her-glory days dorks, OK?